On 16 December 2021, a group of men dressed in the sober, branded casual wear of the Silicon Valley startup gathered on the asphalt at an airstrip outside Salinas, California. In front of them stood a black shiny capsule on three spindly legs, which resembled the offspring of a suppository and a golf trolley, with a V-tail like a humpback whale. Its single cross-span wing had four banks of three rotor blades – six at the front and six at the back – which made the sound of a loud hairdryer. As the spectators bobbed nervously from foot to foot, the machine rose into the air, tipped a bow, and hovered for 10 seconds or so before coming gently to earth. Everyone cheered and clapped and exchanged slightly standoffish hugs. Back in the headquarters of Archer Aviation in Palo Alto, watching events on a huge screen, the rest of the company's employees were on their feet, whooping and whistling.
It was the first test flight for Maker, Archer Aviation's version of a new kind of aircraft called an electric vertical takeoff and landing vehicle. This masterpiece of nomenclature should on no account be attempted when drunk; its acronym, eVTOL, is also hard to get your mouth around; and consensus is lacking over whether the "e" should be capitalised. The bet that significant numbers of investors are making is that eVTOLs, if that is what they continue to be called, will be big. Three months before the test flight, Archer had merged with a special purpose acquisition company, or Spac, also known as a blank-cheque company.
It is a humbling experience to try to learn any new skill as an adult. But there is a particular humiliation in learning to ride a bike. Not only because biking is something everyone already assumes you know how to do and the quintessential skill you never forget. But also because you have to do it in public, wobbling and teetering under the curious gaze of other adults who seem to be fully in control of their balance, pace, and place in the world.
So it's nice that Anne-Lise Millan-Brun, the founder of a bicycle school in Paris, has chosen as a training ground one of the emptiest places in this crowded city. It's shortly after sunrise on a wintry Saturday morning when her students begin to assemble by the Square Emmanuel Fleury, on the capital's hilly eastern edge. All are women; most are first- or second-generation immigrants. All had to wait for months to enroll in the Bike School of the 20th arrondissement, which is so oversubscribed that I was allowed to visit only on the condition I not write about it in French. Millan-Brun does not need the publicity. This is in part because she charges just 50 euros for a trimester's worth of Saturday morning lessons. But it is also because riding a bike has, rather suddenly, come to feel as Parisian as the Métro, and nearly as essential for getting around. To twist a French idiom, vélo, boulot, dodo—bike, work, sleep.
When Millan-Brun arrived in the '90s from Angoulême, in southwestern France, Paris had so few bicycle riders that they recognized one another. There were 3 miles of bike lanes; now there are more than 150. In October 2020, the number of daily bike trips likely surpassed 400,000—1 for every 5 inhabitants. And traffic in the city's busiest bike lanes has grown by more than 20 percent since. Each rush-hour light change at the intersection of Rue de Rivoli and Boulevard Sébastopol, in the center of the city, brings a bewildering, silent dance of scores of bicycles. Paris is learning to ride a bike.
Read the rest of this article at: Slate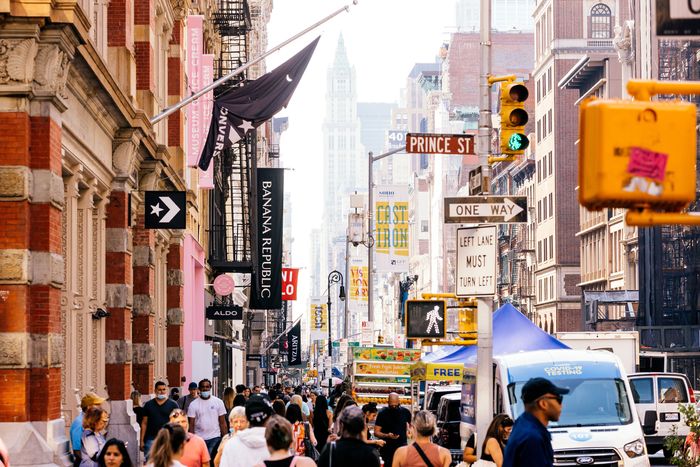 Despite dire predictions to the contrary, Manhattan's population increased last year. According to census figures out this week, it gained about 17,000 residents between 2021 and 2022. But although this reversed the previous two years' losses, the population of New York County still remains below pre-pandemic numbers, and the rest of the boroughs saw more people move out than in. Other stats are concerning, too: Offices are only 55 percent occupied and transit ridership hovers at 62 percent, changing the way business districts function and creating enormous financial angst for the city and state. Looking at New York and elsewhere, trackers of real-estate trends have suggested that U.S. cities are on the brink of an "urban doom loop," which basically sees lower property-tax revenues translating into less spending on city services, causing a decline in the quality of life, which in turn pushes more people to leave, repeating and worsening the cycle of disinvestment. While the "downtown is dead" declarations predate the pandemic — as do the campaigns attempting to revive central business districts — this inflection point may actually be an opportunity for city leaders to reimagine who downtowns actually serve, says David Madden, a sociologist and co-director of the Cities Programme at London's School of Economics and Political Science, and co-author of In Defense of Housing: The Politics of Crisis. Three years after the start of the pandemic, Madden discusses why the rhetoric of doomed downtowns fails to account for what urban recovery can look like.
Read the rest of this article at: Curbed
In 1956, during a year-long trip to London and in his early 20s, the mathematician and theoretical biologist Jack D Cowan visited Wilfred Taylor and his strange new "learning machine". On his arrival he was baffled by the "huge bank of apparatus" that confronted him. Cowan could only stand and watch "the machine doing its thing". The thing it appeared to be doing was performing an "associative memory scheme" – it seemed to be able to learn how to find connections and retrieve data.
It may have looked like clunky blocks of circuitry, soldered together by hand in a mass of wires and boxes, but what Cowan was witnessing was an early analogue form of a neural network – a precursor to the most advanced artificial intelligence of today, including the much discussed ChatGPT with its ability to generate written content in response to almost any command. ChatGPT's underlying technology is a neural network. (Read more about the AI emotions dreamed up by ChatGPT)
The United Nations is negotiating an international cybersecurity treaty that risks enshrining the same type of broad language that's present in US federal and state cybercrime statutes and the laws of countries like China and Iran. According to a coalition of civil liberties groups, the draft treaty's list of "cybercrimes" is so expansive that they threaten journalists, security researchers, whistleblowers, and human rights writ large.
"It's really from the international level all the way down that we have this problem of 'cybercrime' as an overbroad or even meaningless concept," says Andrew Crocker, a senior staff attorney at the Electronic Frontier Foundation, a nonprofit that focuses on civil liberties in the digital era.
Read the rest of this article at: BBC
Where a host meets his guests reveals the context in which he wants to be regarded. The background decor of the chosen setting is more than a telling detail. It is the writing on the wall.
In the case of Russian President Vladimir Putin and Chinese President Xi Jinping, the image of power they want to project is out of the historical realm of czars and emperors among whom they place themselves. The civilizational past portrayed on their walls suffuses their vision of the future. It is the common springboard of opposition to the liberal world order of the West they are united in resisting.
This was in splendid evidence at the Moscow summit this week when Putin hosted a banquet for Xi at the 15th-century Palace of Facets in the Kremlin where czars celebrated after their coronation and consecrated the top clergy of the Orthodox Church. The mural behind the two leaders in the photo above, which depicts Vladimir the Great and his sons, is meant to convey legitimacy conferred through continuity. Vladimir ruled what came to be called the Kievan Rus from 980 to 1015, when he unified disparate principalities into one state and converted the nation to Christianity.
It is this very history that lay behind Putin's justification of the invasion of Ukraine. Could he have been more explicit in what he was asking Xi to endorse?
The Chinese leader may have been unaware of the message the wily namesake of Vladimir I was sending through a staged photo-op. But he would have easily understood the uses of historical continuity as a touchstone to legitimate his own rule.
Read the rest of this article at: Noema