News 17.06.22 : Today's Articles of Interest from Around the Internets
Saturday 18th June, 2022
by P.F.M.
One weekend in September 1995, a software engineer made a website. It wasn't his first. At 28, Pierre Omidyar had followed the standard accelerated trajectory of Silicon Valley: he had learned to code in seventh grade, and was on track to becoming a millionaire before the age of 30, after having his startup bought by Microsoft. Now he worked for a company that made software for handheld computers, which were widely expected to be the next big thing. But in his spare time, he liked to tinker with side projects on the internet. The idea for this particular project would be simple: a website where people could buy and sell.
Buying and selling was still a relatively new idea online. In May 1995, Bill Gates had circulated a memo at Microsoft announcing that the internet was the company's top priority. In July, a former investment banker named Jeff Bezos launched an online storefront called Amazon.com, which claimed to be "Earth's biggest bookstore". The following month, Netscape, creator of the most popular web browser, held its initial public offering (IPO). By the end of the first day of trading, the company was worth almost $3bn – despite being unprofitable. Wall Street was paying attention. The dot-com bubble was starting to inflate.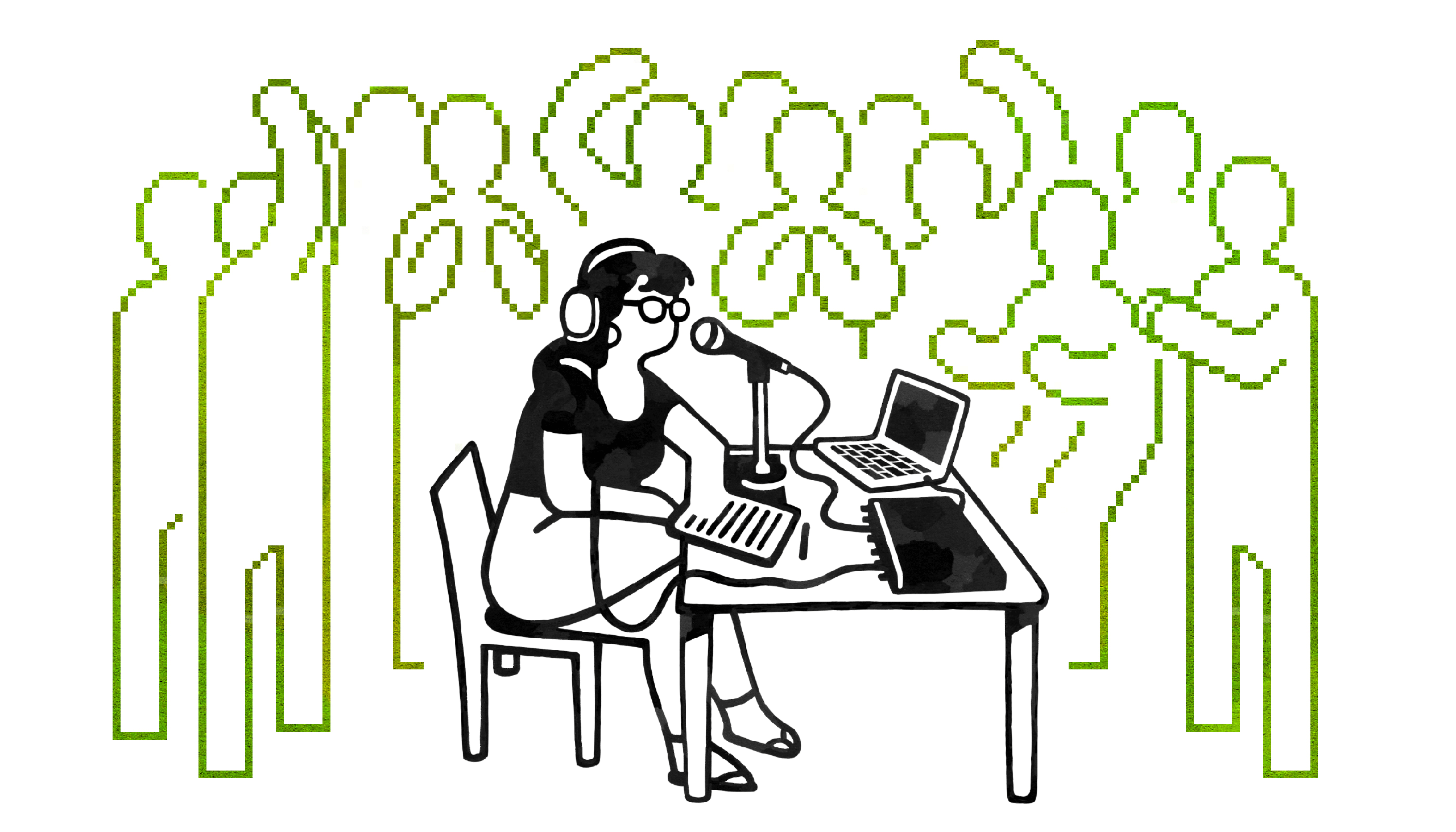 Earlier this spring, I made my way to a modest broadcast studio, situated on the second floor of a polished office building in downtown Washington, D.C., to watch a taping of an Internet news program called "Breaking Points." The show's producer, a young man named James Lynch, met me in the lobby and led me to a crowded control room. Three experienced-looking, middle-aged engineer types staffed the video boards. The scene reminded me of any number of studios that I've passed through for television appearances. Unlike those traditional shows, however, this control room also contained a much younger engineer, hunched over a computer screen, furiously editing the video streaming in from the studio. "We'll post the show on YouTube by eleven," Lynch explained. It was already close to ten.
Everything about the production of "Breaking Points" is fast. The show, which stars Krystal Ball, a former MSNBC host, and Saagar Enjeti, a former White House correspondent for The Daily Caller, produces three full episodes a week, sometimes adding extra "mini" shows responding to current events. The episodes are released in both audio and video formats almost immediately after they're filmed. This speed is necessary because "Breaking Points" is attempting to approximate, using the tools of Internet publishing, the immediacy of live news broadcasting. A segment filmed in the morning might be out of date by the afternoon.
To meet this production schedule, the hosts attempt to record each block using as few takes as possible. When I arrived at the studio, Ball was recording a monologue about Ukraine in which she inveighed against "the baked-in pro-war bias" of cable news. A control-room engineer who was working the show's video TriCaster console threw up a graphic a beat too soon. Ball stopped: "Can we do this again? Why was that so early?" This is the only reshoot that I witnessed during my visit. A little later, there was a lull as Lynch attempted to track down a former professional baseball player who was scheduled to be interviewed about the status of Major League Baseball's labor negotiations. Ball and Enjeti stayed at their broadcast desk during the delay, using the time to write headlines for the short YouTube Clips that would be made of the segments they had just finished filming.
One of the main culprits behind insomnia tends to be going to bed early in an attempt to give yourself more opportunity for sleep. Perhaps you've tried this many times before and it rarely, if ever, leads to more sleep. You might think: If I don't sleep, at least I'm resting, which must be good, right? Sadly, no. It can actually make things worse because spending excessive time lying awake in bed confuses the brain: it starts to associate your bed with wakefulness, making it harder for you to fall asleep.
Another strategy that people sometimes turn to when they are desperate for a good night's sleep is drinking alcohol. Sleep myth: it helps you to sleep. Sleep truth: it might help you fall asleep more quickly, but it wreaks havoc on your sleep quality as the sleep you get is less restorative, your heart is working harder, and you're more likely to wake up in the night and have fragmented sleep.
Compensating with caffeine in the daytime is an understandable strategy that many people use when struggling with feeling groggy and fatigued in the day. But because caffeine is a stimulant, it increases brain activity and blocks a chemical called adenosine, which delays the normal process of feeling drowsy. Drinking coffee or consuming other forms of caffeine in the afternoon or evening poses a risk to sleep.
Something else I hear a lot about when supporting people with insomnia is how hard they 'try to sleep'. Without realising it, they are actually putting huge psychological pressure on themselves. People who are sleeping well don't 'try' to sleep; in fact, they give little thought to how they get to sleep. It just happens. Naturally, it makes sense that people with insomnia start to fixate on trying to sleep, as their desire for sleep will be off the charts. However, the more pressure you put on yourself to sleep, the less likely you are to be able to sleep. This is because it causes a stress response (much like performance anxiety) that wakes up the brain and leads to anxiety and racing thoughts. As hard as it is, learning to let go of the need to sleep and taking the pressure off sleeping can help you to fall asleep more quickly.
Read the rest of this article at: Psyche
One of the worst labels that can be applied to an upwardly mobile urban dweller is that of gentrifier. The word implies a lot—for one, that culpability in the broad phenomenon of neighborhood change can be assigned to individuals. But given that the insult is often slung back and forth among members of the same yuppie class living in the same formerly affordable neighborhoods, it sometimes serves less to suggest that one's housing choices have led to displacement of minority or low-income residents, and more to insinuate that one is insufficiently progressive.
On Twitter recently, quips by a couple of large accounts about how San Francisco had been ruined by tech millionaires spiraled into a fight among people of various shades of political opinion, from "extremely left wing" all the way to "very liberal," about the evils of gentrification. Inevitably, it devolved into a familiar argument over who really gets to speak for low-income people of color.
Scenes like this, whether they play out on social media or in the real world, are examples of a corrosive discursive pattern. They work to tear apart a group of people whose rising clout in urban politics has the potential to make cities more prosperous and equitable.
The real villains in the tale of gentrification are not 20-something new entrants to mixed-income neighborhoods, but NIMBY homeowners in the wealthiest ones. Yet acknowledgment of the pivotal role that they play is often missing. They fade into the background even as their interests are defended by nearly every institution and elected official. This group has steadfastly refused to allow new housing in their communities—not just low-income units but the type of "luxury apartments" marketed to the young and upwardly mobile.
Cities are fundamentally engines of economic growth. They are agglomerations of workers and industries that have discovered that they are more productive together than they are apart. Happily, governments can more easily provide public services to more densely populated communities. And, less tangible but no less important, something about different sorts of people living close together creates the potential for new ideas, subcultures, and ways of being.
Perversely, instead of planning for population growth in urban areas, many American state and local governments have done the opposite: They have worked to restrict and slow construction, believing that a thriving, economically successful city could remain stagnant. In this, they were incorrect.
Throughout February and March, as Omicron cases in Hong Kong climbed to tens of thousands a day, I'd leave my apartment every evening for a stroll along the waterfront in Sheung Wan. The sky was a wallpaper of twilight blue; being shut indoors felt like a waste of spring. The promenade bustled with others who had permitted themselves these daily masked excursions: children speeding past me in rollerblades, burning off excess energy from school days spent on Zoom, and office workers sitting on benches clutching plastic containers of takeaway dinners. Across the city, hospitals were overflowing with the sick and dying, but the scene on the promenade was placid: a man playing a tune on an erhu, another performing handstands near the edge of a fountain. Over the harbor, the massive display screen of a newly opened art museum flashed a half-hearted message expressing well-wishes.
Every time I think about Hong Kong, I inevitably return to the water — the masked couples making out in cars facing the smoggy sunset by Stonecutters Bridge; the tourists jostling before the postcard-perfect view of the harbor from Avenue of Stars at Tsim Sha Tsui; the tranquil walks along the reservoirs at the country parks surrounding the city. In the last few decades, Hong Kong has frequently been referred to as a global financial center, but the city first gained significance as a major port in the early 20th century; its fate has always been intimately tied to its waters. I know that were I to ever leave, they would be what I would miss most.
When I say I miss Hong Kong, what I mean is the city as I remember it between the years of 2014 and 2019. In the aftermath of the 79-day pro-democracy occupation protests in 2014, every neighborhood across the city set up its own grassroots form of civic engagement: Residents self-organized home repairs for the elderly and ran historical walking tours to build stronger community ties. When friends visited the city, we'd eat curries at Chungking Mansions, then walk over to Sai Yeung Choi Street, a popular shopping district, where political parties across the spectrum set up street booths and handed out flyers and balloons. On one weekend, I might have headed to Lamma Island to meet an artist from Milwaukee who ended up in Hong Kong because of his love of Wong Kar-wai films; the next weekend, I could have wound up at a mini-music festival hosted atop a mountain peak, at an industrial warehouse, or inside a cha chaan teng (tea café) in Yau Ma Tei with the shutters pulled down. Every June 4, we'd commemorate the Tiananmen massacre at Victoria Park with a candlelight vigil, then head to the dai pai dong (open-air food stall) above a wet market for beers.
I was born not long before the handover in 1997, when Hong Kong was to cease to become a British colony and be handed to China. The event had triggered an emigration wave: There were whispers of how Hong Kong would change, and many left because they did not want to be under Communist rule. But change came slow, and borders remained free. Within a decade, Hong Kong had developed a regular protest calendar, with thousands marching through a dense network of skyscrapers in the financial district on set days every year to voice discontent and commemorate anniversaries. Over time, the city became, for the post-handover generation, less a place of transition, a stepping-stone for better lives abroad, but a place worth fighting for.