News 26.04.21 : Today's Articles of Interest from Around the Internets
Monday 26th April, 2021
by P.F.M.
The most emotionally difficult moment in Michelle Graham's life was when five snakes in her lab died.
She had started a doctoral program studying jumping and flying snakes. There are several species of snakes that not only live in trees but can leap heroically from one to the next. Scientists still aren't totally sure why they jump, but what Graham wanted to know was: How? How can an animal with no arms and no legs jump at all?
In hopes of observing them fly, her lab purchased from a reptile dealer several snakes collected in southeast Asia, then placed them in an improvised snake jungle gym fitted with GoPro cameras. The team wanted to learn how the snakes could curl up and then launch themselves toward tree branches and other targets, adjusting how they're coiled to land each jump.
Graham loves animals. Horrified at the treatment of animals in factory farms and the torturous short lives they endured on their way to supermarkets and restaurants, she was, and still is, a vegan. She was comfortable, though, taking those snakes from the wild and putting them in her jungle gym, figuring that their life spent simply being observed would be no worse than in the wild. So she kept up her experiments.
And then, she recalls, it went "horribly wrong."
Read the rest of this article at: Vox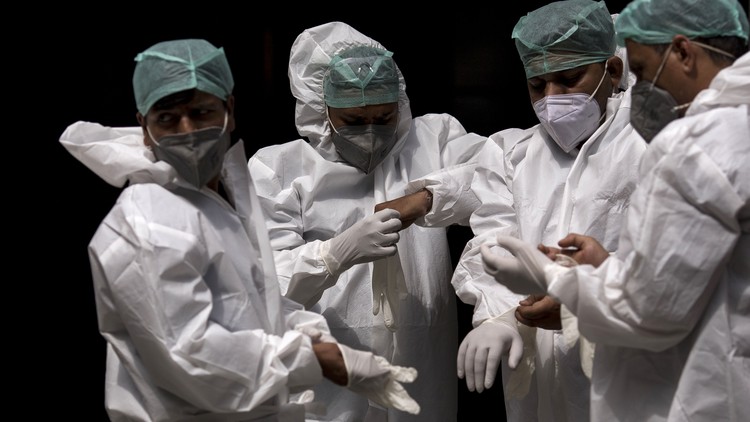 India considered itself to be "in the endgame" of the pandemic just a few weeks ago. Now it is the global epicenter. The country recently surpassed the devastating milestone of more than 345,000 new COVID-19 cases in a single day, the biggest total recorded globally since the pandemic began.
What is taking place in India isn't so much a wave as it is a wall: Charts showing the country's infection rate and death toll, which has also reached record numbers in the country, depict curves that have shot up into vertical lines. Public-health experts aren't optimistic that they will slope down anytime soon.
India's outbreak is an enormous tragedy for its own people, but it's also a catastrophe for the rest of the world. Ninety-two developing nations rely on India, home to the Serum Institute, the world's largest vaccine maker, for the doses to protect their own populations, a supply now constrained by India's domestic obligations. Meanwhile, the coronavirus is mutating. Reports of double- and even triple-mutant strains of the virus, which experts fear could be driving the country's latest surge, have prompted concerns that what has started in India won't end there. Despite efforts to restrict the spread of India's new COVID-19 variant, called B.1.617, it has already been identified in at least 10 countries, including the United States and Britain.
If ever there were a time for intervention, it would be now. But world leaders, who have so far only paid lip service to the need for global cooperation, have mostly been preoccupied by their own internal situations. Although this approach may have served vaccine-rich countries such as the U.S. so far, India could prove its limits.
How did India, which merely a month ago thought it had seen the worst of the pandemic, get to this point? Michael Kugelman, the deputy director of the Asia program at the Washington, D.C.–based Wilson Center, told me the answer comes down to a "perfect storm" of factors that includes new and existing variants (and a lack of robust genomic sequencing to track them), a continuous stream of widely attended political rallies and religious gatherings (with no social distancing or mask wearing), and a general complacency on the part of the Indian government, which was slow to respond to a crisis in which it had prematurely claimed victory.
The result has been overwhelmed hospitals, depleted oxygen supplies, morgues that have run out of space, and crematoria that are melting from near-constant use. The country surpassed 2,000 deaths a day last week—and those are just the cases that have been recorded. This time next month, that figure could rise to as high as 4,500 daily deaths, Bhramar Mukherjee, a biostatician and epidemiologist at the University of Michigan who is tracking the situation in India, told me. Others warn that it could get as high as 5,500. Though the projections vary, the conclusions are largely the same. "All the arrows are pointing to real darkness," Mukherjee said.
The situation has become so dire that the Pune-based Serum Institute, the manufacturer of the AstraZeneca vaccine and a major contributor to the COVAX initiative to provide doses to low- and middle-income countries, said it will not be able to meet its international commitments amid India's domestic shortage. Once considered the pharmacy of the world, India is now being forced to import doses.
Alber Elbaz, a Moroccan-born Israeli fashion designer who rejuvenated Lanvin and had recently started a new venture, AZ Factory, died on Saturday in Paris. He was 59.
The cause was Covid-19, Richemont, the company backing Mr. Elbaz's brand, said.
Beloved not only by his celebrity clients like Meryl Streep and Natalie Portman but also by his peers, Mr. Elbaz was that rare character in fashion: a truly empathetic and generous designer, both in the clothes he made and in the way he conducted himself within the business. The graceful lines of his dresses mimicked the graceful lines of his life.
"Alber always thought of fashion as an embrace of life at its best," said Anna Wintour, the global chief content officer for Condé Nast and editor of Vogue. "And when we wore his clothes, or were in his wonderful, joyful presence, we felt that, too."
Designers like Pierpaolo Piccioli of Valentino and Stella McCartney all paid tribute to what Mr. Piccioli called one of fashion's "biggest treasures."
Frederique and Sinclair Philip had been looking for a buyer for Sooke Harbour House for two years when Timothy Durkin showed up. It was March 2014. In the three decades the couple had owned the business, they'd transformed it from a small waterfront bed and breakfast into a popular destination spot that housed an internationally renowned locally sourced restaurant.
Located about 40 kilometres west of Victoria, on the southwestern tip of Vancouver Island, the white clapboard hotel looked out over spectacular views of the Juan de Fuca Strait and the Olympic mountain range. Inside was a surprising mix of rustic charm and luxury. The hotel featured wood burning fireplaces in each of its 28 guest rooms, which Frederique had decorated with work by local artists to evoke themes of the sea. Paintings and sculptures by local artists also lined the hallways and filled the sitting areas and the gift shop, which doubled as a gallery. Guests could order spa services or, in some rooms, relax on their balconies in Japanese soaking tubs.
Among the hotel's numerous accolades, The New York Times had described it as "an enticing and idiosyncratic retreat for epicures," noting that its restaurant was among the "half-dozen best" in Canada and that its sprawling kitchen garden contained "more than two acres of herbs, vegetables and edible flowers, many of them rarities." Gourmet magazine's readers had deemed it the best hotel in the world for "authentic local cuisine." Wine Spectator had repeatedly recognized Sooke Harbour House's wine list with its "most prestigious honour," the Grand Award.
Of all the mysteries and injustices of the McDonald's ice cream machine, the one that Jeremy O'Sullivan insists you understand first is its secret passcode.
Press the cone icon on the screen of the Taylor C602 digital ice cream machine, he explains, then tap the buttons that show a snowflake and a milkshake to set the digits on the screen to 5, then 2, then 3, then 1. After that precise series of no fewer than 16 button presses, a menu magically unlocks. Only with this cheat code can you access the machine's vital signs: everything from the volume of its milk and sugar ingredients to the temperature of the glycol flowing through its heating element to the meanings of its many sphinxlike error messages.
"No one at McDonald's or Taylor will explain why there's a secret, undisclosed menu," O'Sullivan wrote in one of the first, cryptic text messages I received from him earlier this year.
As O'Sullivan says, this menu isn't documented in any owner's manual for the Taylor digital ice cream machines that are standard equipment in more than 13,000 McDonald's restaurants across the US and tens of thousands more worldwide. And this opaque user-unfriendliness is far from the only problem with the machines, which have gained a reputation for being absurdly fickle and fragile. Thanks to a multitude of questionable engineering decisions, they're so often out of order in McDonald's restaurants around the world that they've become a full-blown social media meme. (Take a moment now to search Twitter for "broken McDonald's ice cream machine" and witness thousands of voices crying out in despair.)
But after years of studying this complex machine and its many ways of failing, O'Sullivan remains most outraged at this notion: That the food-equipment giant Taylor sells the McFlurry-squirting devices to McDonald's restaurant owners for about $18,000 each, and yet it keeps the machines' inner workings secret from them. What's more, Taylor maintains a network of approved distributors that charge franchisees thousands of dollars a year for pricey maintenance contracts, with technicians on call to come and tap that secret passcode into the devices sitting on their counters.