News 08.28.20 : Today's Articles of Interest from Around the Internets
Saturday 29th August, 2020
by P.F.M.
"Never offend an enemy in a small way," Gore Vidal once wrote. The prickly writer, who thrived on making enemies, may soon be spewing venom from six feet under. Eight years after his death, he is scheduled to cast shade on his nemesis, William F. Buckley, Jr., in a new play by Alexandra Petri, called "Inherit the Windbag." The play is in virtual rehearsals right now, at Washington, D.C.,'s Mosaic Theatre Company, but when a stage version opens, likely next spring, the groundskeeper at Rock Creek Cemetery would be well advised to keep an eye on Section E, Lot 293 ½, where Vidal's ashes are buried. Vidal outlived Buckley by four years, but never forgave the man who called him a "queer" in a 1968 televised debate. When Buckley died, Vidal cheered, "RIP WFB—in hell."
The odyssey that Vidal's remains took before their interment was no less dramatic. The writer spent many hours negotiating the details of his grave. From his villa in Ravello, Italy, he stipulated that his ashes be placed near an Augustus Saint-Gaudens sculpture commissioned by the historian Henry Adams, in memory of his wife, who committed suicide. This monument is the most visited site in the eighty-acre park, just across the street from the former Old Soldiers' Home, where President Lincoln summered during the Civil War. Vidal, who made millions in real estate, understood its first three commandments: location, location, location.
When I set out to write my first book, I wanted to write a book that examined the very nature of facts and how we turn them into stories. To do this, I knew, I would have to get every fact that was verifiable correct. The more you want to ask the big, shifty questions, the more your foundation must be rock solid.
My book, The Third Rainbow Girl: The Long Life of a Double Murder in Appalachia, concerns the deaths of two people who have many living family members, the incarceration of a living man, and a protracted emotional and social trauma of enormous meaning to a great many real and living people in a region with enormous (rightful) distrust of media and journalists. I'd done my best to get the facts correct as I wrote, but I had thousands of pages of archival documents, photos, trial transcripts, and newspaper clippings, as well as hours of interviews. The text had been through too many revisions, both large and sentence-level, for me to count. In quiet moments, I felt the anxiety of getting something wrong grip my stomach. I could hurt someone, open myself up to lawsuits, or just make a reader lose confidence in everything I had to say. Getting my book fact checked was not optional.
Fact checking is a comprehensive process in which, according to the definitive book on the subject, a trained checker does the following: "Read for accuracy"; "Research the facts"; "Assess sources: people, newspapers and magazines, books, the Internet, etc"; "Check quotations"; and "Look out for and avoid plagiarism." Though I had worked as a fact checker in two small newsrooms, did I trust myself to do the exhaustive and detailed work of checking my own nonfiction book? I did not.
From reading up on the subject and talking to friends who had published books of nonfiction, I knew that I would be responsible for hiring and paying a freelance fact checker myself. This is the norm, not the exception; in almost all book contracts, it is the writer's legal responsibility, not the publisher's, to deliver a factually accurate text.
Read the rest of this article at: Esquire
Isn't it nice when siblings share the same interests? Like the Koch Brothers, whose kindred business acumen, up until younger brother David's death in 2019, helped them pilot Koch Industries to its place as the second-largest privately owned company in the U.S. — and whose allied spending habits over the years led to them donating an estimated $100 million to conservative and libertarian causes. Or like their British equivalents, the secretive octogenarian twins the Barclays, who similarly built businesses together, became brother billionaires — and then acquired a stately old newspaper that has since become the U.K.'s print version of Fox News.
They also jointly invested in buying one of Britain's actual Channel Islands so they could build an actual castle on it and live there. "It's a great example of what can be achieved in this country," David Barclay is reported to have said in 2000, on the occasion of he and his brother receiving their dual knighthood from the Queen, "from whatever background or education or humble beginnings."
Read the rest of this article at: Mel 
That Tuesday night, Helen lay awake and listened to her roommate dying. She heard the nurses moving around. Their whispers. She heard the heaving of the oxygen machine. At some point, someone had closed the curtain that divided the room, but it didn't do much to mute the noise. The beds were so close together that each woman could hear the other breathing — and that was true on a normal day, before the coughing.
It was four days into the outbreak. Or, rather, it was four days since the Life Care Center of Kirkland, a nursing home in Washington state, had publicly confirmed the existence of a coronavirus outbreak. From Room 10, where Helen and Twilla had lived for more than a year, the women couldn't see the nurses wheeling sick residents out the front door to meet the ambulances in the parking lot — sometimes holding white bedsheets around the stretchers to shield the patients from the photographers waiting at the side of the road. Room 10 faced inward, toward the courtyard, and it was quiet there. Still, from their beds, the women could hear nurses running down the hallway. The sound was conspicuous because people don't usually run inside nursing homes.
Later, the story of the Life Care outbreak would be flattened by the ubiquitous metaphors of pandemic. People would say that COVID-19 hit like a bomb, or an earthquake, or a tidal wave. They would say it spread like wildfire. But inside the facility, it felt more like a spectral haunting. A nurse named Chelsey Earnest said that fighting COVID was like "chasing the devil."
By that day, March 3, the facility's nearly 120 residents had been told to stay inside their rooms. Now and again, someone with dementia would forget the new rules and wander into the hallway, but she would quickly be redirected back to bed. Sometimes, she would cry because the nurses redirecting her looked alien and strange in their surgical masks.
Since there were so few remaining staff members — by then, more than a third of Life Care's staff had called out sick — some residents had not been showered or helped out of bed in days. Some weren't properly covered up because their sheets had fallen down; their legs stuck out, bare and exposed. These were small indignities, maybe, given everything, but still. A few residents had called their sons and daughters to say how awful it felt to be lying that way: stiff and dirty. Others had wanted to call home but couldn't because, amid the chaos, no one had remembered to replace their hearing-aid batteries.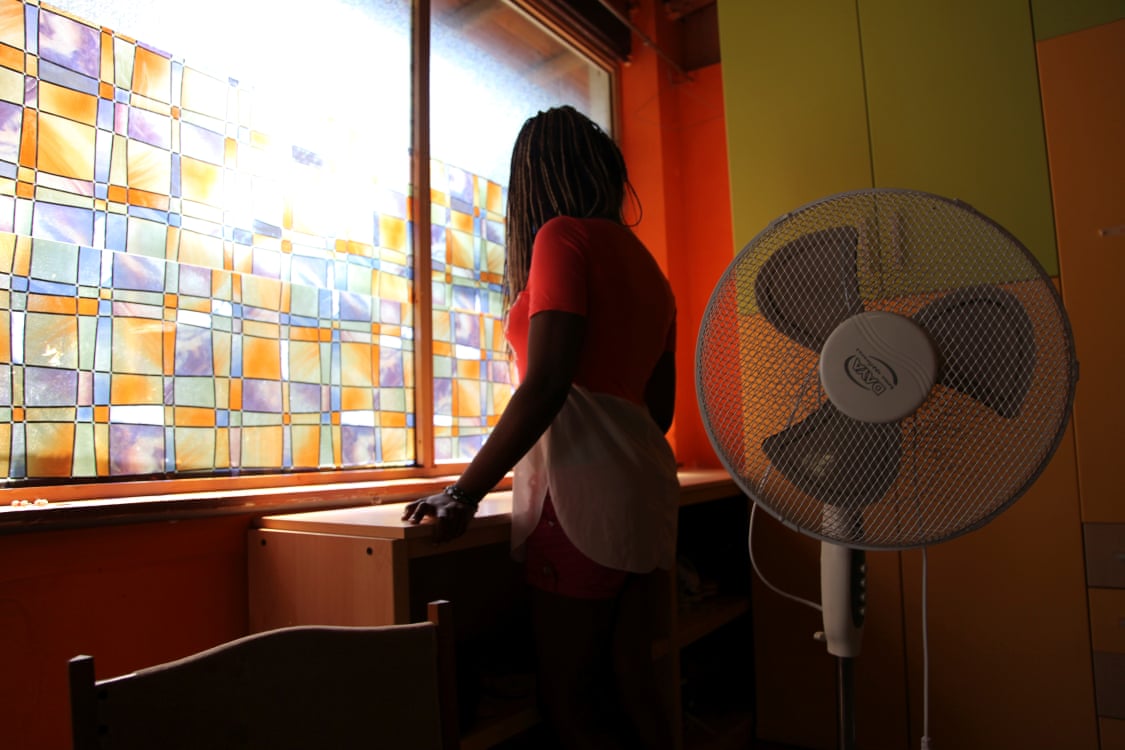 Susan had been on Italian soil for exactly three days when, on 23 July 2015, she was taken with dozens of other new arrivals to a noisy, overcrowded detention centre in Rome, and told she would shortly be deported back to Nigeria. Some women shouted in anger, others started to cry. Susan remained silent. She could not go back.
The previous spring, Susan had been persuaded to make the journey to Italy by a Nigerian woman called Ivie, who she met in her home village in the southern Nigerian state of Edo. The woman had offered to pay for Susan's journey to Europe and promised she would get decent, paid work when she arrived. Susan underwent a traditional juju oath-taking ceremony, in front of a priest, in which she swore to pay the woman back and to be loyal to her. Now, here in Italy, Susan knew that if she did not repay the debt, there would be terrible consequences.
A lawyer from a voluntary organisation helped Susan make an asylum application that would allow her to remain in the country, and after a few more weeks in detention she was transferred to a migrant reception centre in central Italy to wait for her case to be processed. Soon after, Ivie picked her up and brought her to an apartment in Prato, outside Florence. Four other young Nigerian women were already living there. One of them handed Susan a pair of high-heeled shoes and a short skirt. "Let's go," she said. "We have to work."
Susan thought it must be a joke. She had been promised work as a babysitter or a supermarket cashier. "They didn't tell me I would come here to be a prostitute," Susan told me. But the women around her were not laughing. When she protested, Ivie reminded her that she had paid for her journey, and of how much money she owed. If she didn't pay, or if she spoke about it to anyone, her mother and brothers back home would be in danger. "I was crying," Susan told me. "The other girls said: 'You'll get used to it'. I said: 'I'll never get used to it.'"
There were no days off. Susan was never alone, but she felt isolated. Ivie had created a hierarchy, making it hard for the girls to bond. Hillary, another young woman from Edo state, had been given the role of collecting the money at the end of the night and checking on the girls. Susan's survival strategy was to avoid the men who came looking for sex – to work as little as possible. In January she made only €420. Frustrated by Susan's poor earnings, Ivie hit her so hard that Susan was afraid she was going to lose the sight in one eye.