News 09.23.19 : Today's Articles of Interest from Around the Internets
Monday 23rd September, 2019
by P.F.M.
Everything comes to an end, even a tango party in Argentina. It was a perfect combination, that night in early 1904: a warm spring evening, a house full of the great, and a yard full of the good.
The great: That would be the new governor, Dr. Julio Lezama, accompanied by the chief of police, military surveyors, and various political functionaries. And the good: That would be the 80 or so people standing on the grass, almost the entire population of this remote valley in the Andes. Among the guests were families, local laborers, and misfits from many nations. Some were broke South American cowboys; others immigrants from Italy, England, Wales, and America. Some were indigent; others, like the hosts of the party, seemed to have it all: money, land, houses, and cattle.
The music was provided by the governor himself. He was a man of many accomplishments—a doctor, politician, and guitarist who could pick out most any regional favorite. Tonight it was the Brazilian samba, plus a new style that was just emerging in Argentina, the melancholy tango.
Marcella is eighteen and lives in a Texas suburb so quiet that it sometimes seems like a ghost town. She downloaded TikTok last fall, after seeing TikTok videos that had been posted on YouTube and Instagram. They were strange and hilarious and reminded her of Vine, the discontinued platform that teen-agers once used for uploading anarchic six-second videos that played on a loop. She opened TikTok, and it began showing her an endless scroll of videos, most of them fifteen seconds or less. She watched the ones she liked a few times before moving on, and double-tapped her favorites, to "like" them. TikTok was learning what she wanted. It showed her more absurd comic sketches and supercuts of people painting murals, and fewer videos in which girls made fun of other girls for their looks.
When you watch a video on TikTok, you can tap a button on the screen to respond with your own video, scored to the same soundtrack. Another tap calls up a suite of editing tools, including a timer that makes it easy to film yourself. Videos become memes that you can imitate, or riff on, rapidly multiplying much the way the Ice Bucket Challenge proliferated on Facebook five years ago.
Marcella was lying on her bed looking at TikTok on a Thursday evening when she began seeing video after video set to a clip of the song "Pretty Boy Swag," by Soulja Boy. In each one, a person would look into the camera as if it were a mirror, and then, just as the song's beat dropped, the camera would cut to a shot of the person's doppelgänger. It worked like a punch line. A guy with packing tape over his nose became Voldemort. A girl smeared gold paint on her face, put on a yellow hoodie, and turned into an Oscar statue. Marcella propped her phone on her desk and set the TikTok timer. Her video took around twenty minutes to make, and is thirteen seconds long. She enters the frame in a white button-down, her hair dark and wavy. She adjusts her collar, checks her reflection, looks upward, and—the beat drops—she's Anne Frank.
The national birth rate, long in decline, reached an all-time low this year. Different theories have been floated to explain the trend, but none have been more revealing than the answers young people give themselves. In a 2018 New York Times survey of Americans aged twenty to 45, only 42 percent of respondents said they wanted children. According to an international report released this May, just 39 percent of millennials listed having kids as one of their life ambitions, in last place behind traveling the world, getting rich, buying a home and making a "positive impact."
Meanwhile, in the past few years several organizations—part advocacy network, part support group—have formed to promote voluntary childlessness as an appropriate response to climate change. For all the media coverage they've managed to attract, their numbers are still quite small: one of the most visible such groups, the activist collective BirthStrike, counts just over four hundred members worldwide. The broad interest in the question they are raising, however, is supported by the trend pieces published almost weekly on the issue, often with titles like "We Need to Talk about the Ethics of Having Children in a Warming World" (Vox) and "Want to Fight Climate Change? Have Fewer Children" (the Guardian). Last February, the ever-attuned millennial politician Alexandria Ocasio-Cortez put it succinctly to her 2.5 million Instagram followers: "There's scientific consensus that the lives of children are going to be very difficult. And it does lead young people to have a legitimate question: Is it okay to still have children?"
In the Scheetz household, back-to-school anxiety reached new heights this fall.
Jami Scheetz's 15-year-old son Devon, who has severe asthma, kicked a brutal vaping habit over the summer, with help from a nicotine patch. But as soon as school started and he was once again around kids vaping, his habit returned. On Sept. 12, Devon vaped at school and immediately began sweating and vomiting. Though Scheetz, who lives in Sellersville, Pa., says her son is now fine, she can't shake thoughts of kids who have been hospitalized or died after using e-cigarettes. "Vaping scares me more [than smoking], because they don't know what's really in it," she says.
To a remarkable degree, a single company is front and center in one of the biggest public-health crises facing the country: the sharp rise in vaping among teenagers and young adults. In 2018, 30% of the nation's 12th-graders reported vaping nicotine at least once in the past year, according to a January 2019 study sponsored by the National Institute on Drug Abuse. The study said the increase in vaping last year was "the largest ever recorded for any substance in the 44 years" that it has tracked adolescent drug use.
Though Juul is not the only e-cigarette for sale in the U.S., it is largely blamed for the vaping explosion and controls about 50% of the market, putting a sharp focus on the company. On Sept. 9, the Food and Drug Administration sent Juul a warning letter accusing the company of violating federal regulations by promoting its e-cigarettes as a safer option than traditional cigarettes and threatening the company with fines and product seizures if it continued. Two days later, the Trump Administration said it planned to pull from the market flavored e-cigarettes such as Juul's mango, creme and mint pods. In the Oval Office, with First Lady Melania at his side, President Trump said, "We can't allow people to get sick. And we can't have our youth be so affected." He added that the First Lady, who tweeted a warning about vaping, feels "very, very strongly" about the issue because of their teenage son Barron. Just days later, New York banned most flavored e-cigarettes statewide, following in the footsteps of Michigan and Juul's home city of San Francisco, whose mayor signed an ordinance effectively banning e-cigarettes. The recent moves were prompted by U.S. Centers for Disease Control and Prevention (CDC) reports of almost 400 serious lung illnesses and six deaths it linked to vaping, which a congressional committee is also investigating. While Juul products have not been implicated in the deaths, the CDC in September advised Americans to "consider not using e-cigarette products" while its investigation is ongoing. The American Lung Association went further, saying in a statement that "no one should use e-cigarettes or any other tobacco product." Huge international markets, including India and China, are also restricting the sale of e-cigarettes.
Read the rest of this article at: Time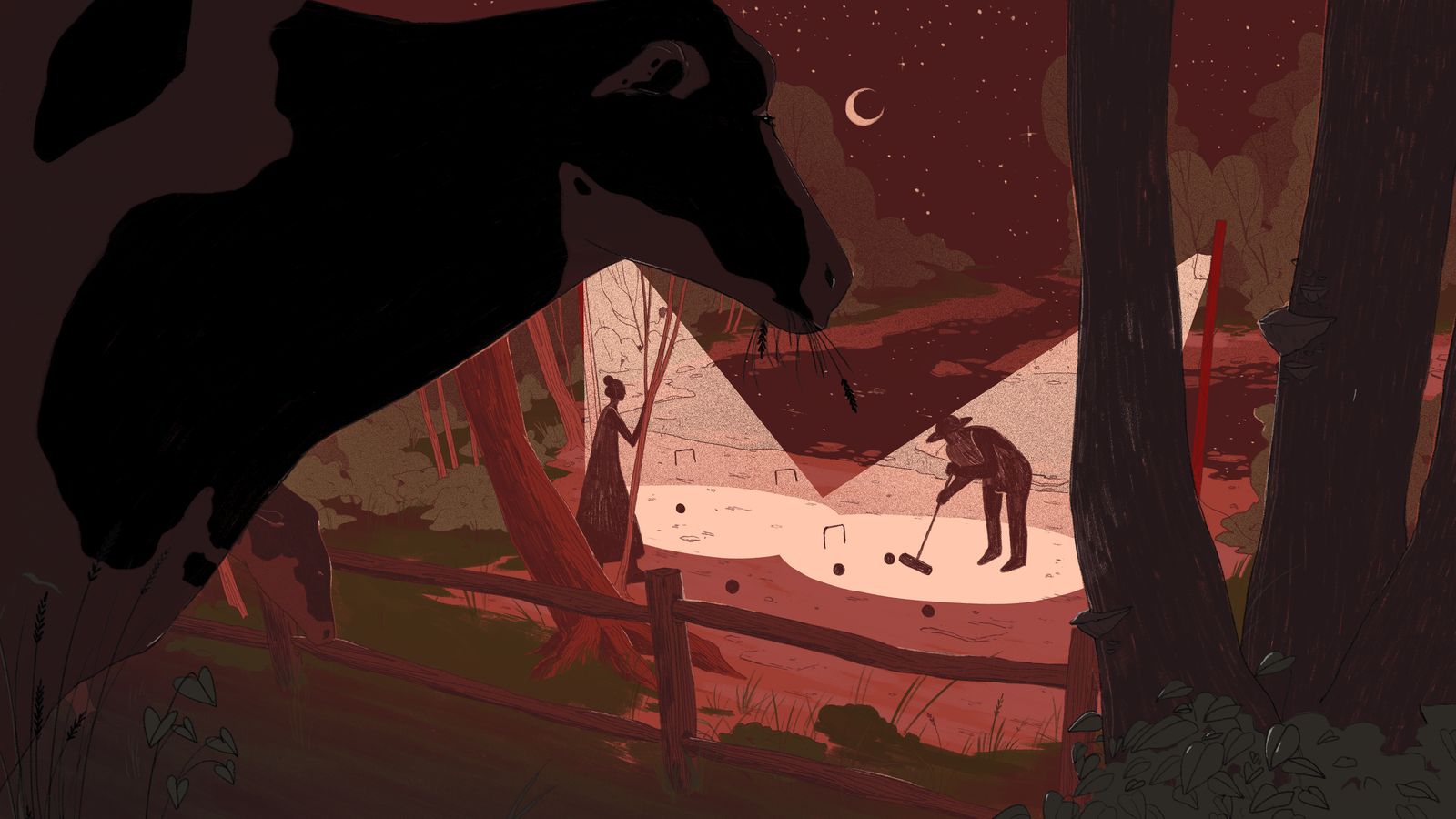 On a sunny September Sunday in 1982, Mark Burchfield, a 20-year-old tobacco farmer from rural Kentucky, stood in Manhattan's Central Park, getting ready to take the most important croquet shot of his life.
Mark and his father Archie were one of 32 teams competing in the doubles tournament at the sixth annual U.S. Croquet Association National Championship. Archie already had seven state croquet titles under his belt, but this was Mark's first tournament. He hadn't even seen croquet played on grass until the month before; his father's first time was in March. Back in Kentucky they played a different version of the game on hard-packed clay.
Spectators crowded the waist-high chain-link fence that ringed the courts. Over five days of competition, word had spread of the "Kentucky Riflemen," with their down-home accents and astonishing skills. Everything about them stuck out: Archie's burly farmer physique, Mark's fuzzy mustache and shaggy haircut, their homemade mallets with handles made from pool cues. They were black swans among the white-clad East Coast croquet elite, who had welcomed them, as well as Archie's wife, Betty, with decidedly muted enthusiasm.
But here they were, in the finals, leading by one point over two of the best players in the sport. Archie, who handled the strategy, showed his son exactly where he wanted him to put the ball.
A 2009 Garden & Gun article described the scene: Archie walked over to Betty and whispered, "If he don't make that shot perfectly, it's all over. I feel like I need to tell him."
"Don't you dare," she whispered back. The night before the tournament started, Mark had told his mother that, even if his father knew a shot was critical, he didn't want to hear about it. He was nervous enough already.
The story of how Mark and Archie got to this moment—told here through decades' worth of articles and first-hand interviews with Mark, Betty, and others who were there for the Burchfields' rise through the sport—is the story of a family that not only found a peculiar passion, but refused to accept that they didn't belong in the bourgeois world that passion led them into.
Mark squatted to eyeball his line. Then he stood, took a deep breath, and swung.
Read the rest of this article at: Deadspin